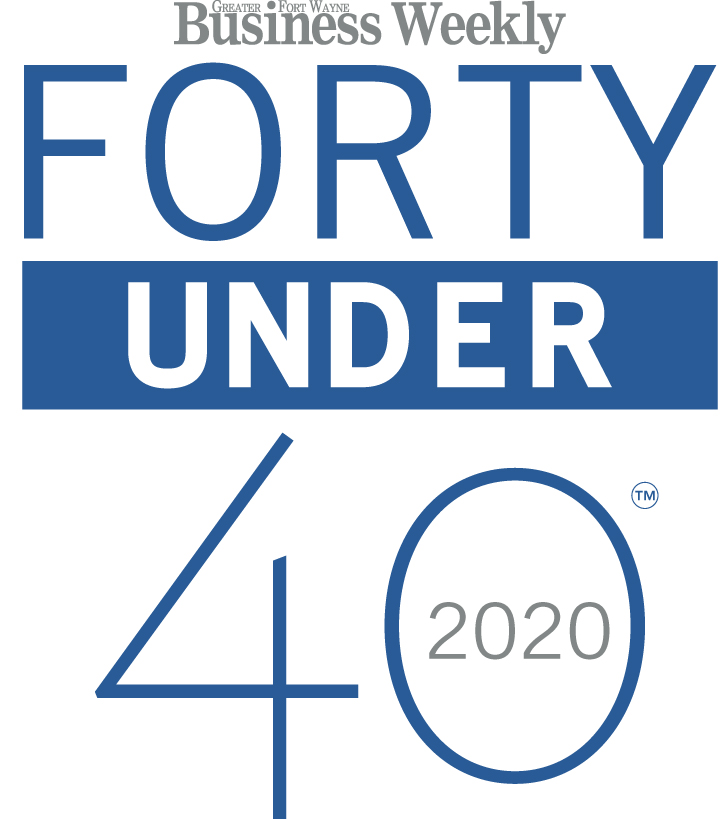 Our 2020 Forty Under 40 awards reception with title sponsor Ruoff Mortgage has been postponed to ensure the safety and health of everyone during this time of COVID-19.
Previously purchased tickets will be honored at the new event:
5:30-8:30 p.m. Aug. 6 at Ramada Hotel & Conference Center. 
Some tickets are still available. Go to Eventbrite at https://www.eventbrite.com/e/greater-fort-wayne-business-weeklys-forty-under-40-2020-tickets-102349931400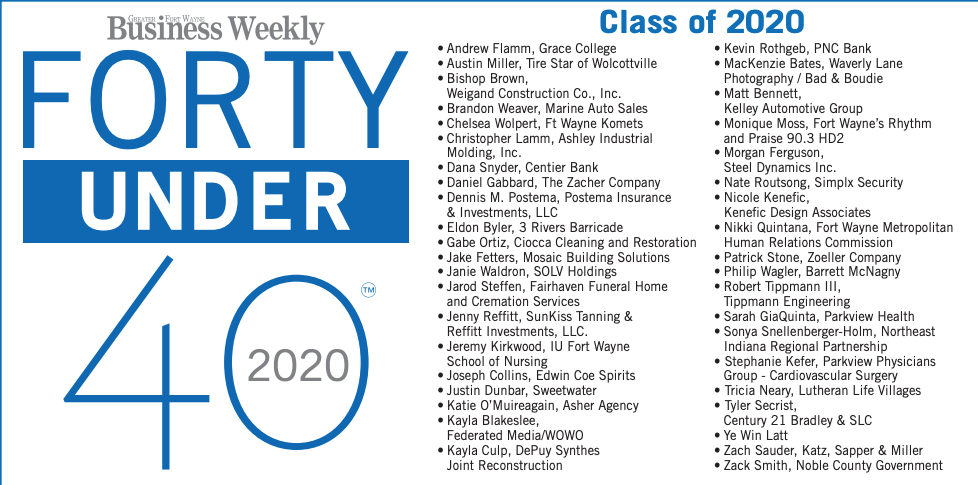 Nominations are always open for the Greater Fort Wayne Business Weekly Forty Under 40 awards. We have chosen our Class of 2020. Have someone for the Class of 2021?
Nominate a deserving young person who has made a difference in northeast Indiana both on the job and in the community.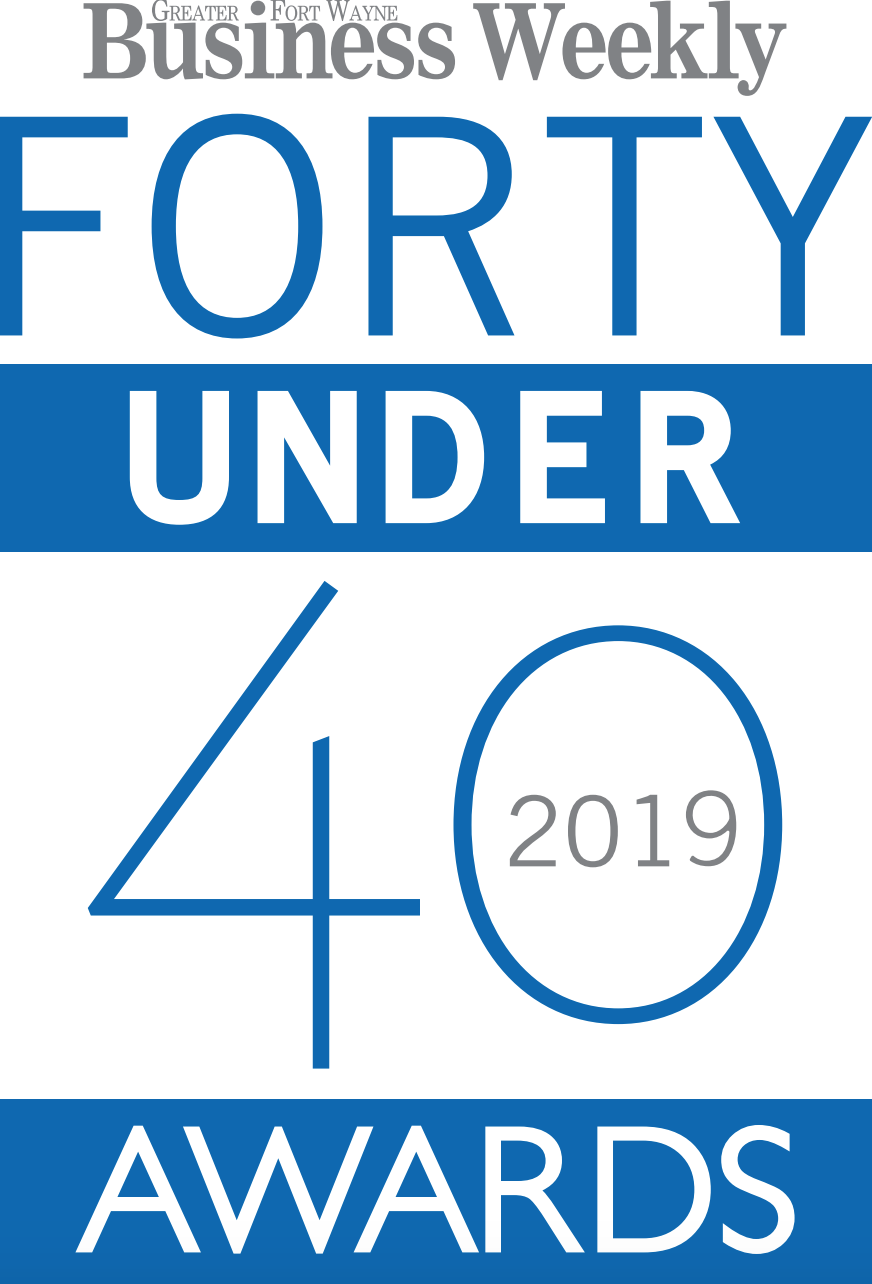 Following are the members of the Business Weekly Forty Under 40 Class of 2019:
Ashley Adamson, Junior Achievement, Program Manager In-School/JA in a Day Specialist


Sarah Arnold, Fort Wayne Trails, Inc., Community Engagement Manager


Dr. Franklin Awah, FW Oral Maxillofacial Surgery & Implant Center, Oral Surgeon/Partner


Adam Bartrom, Barnes & Thornburg LLC, Partner


Ashley Benvenuti, Superior Aluminum Alloys/OmiSource, Division Human Resources Manager


Zachary Briggs, Visual Prime Studios, Owner/CEO


Megan Butler, Riverfront Fort Wayne, Program & Events Manager


Tabitha Ervin, Greater Fort Wayne YMCA, Executive Director


Jes Farris, Studio 13 Tattoo & Explorer Tattoo Conference, Owner/Operator


John Felts, City of Fort Wayne, Public Outreach Coordinator


Aric Forbing, Modbar, LLC, Director of Engineering


Marcus Heminger, Barrett McNagny, Partner


Stephanie Henry, Pocket Potager, Consultant/Advocate


Martin Huttenlocker, Bradley Company, Vice President


Hajira Khan, Kiddie Academy of Fort Wayne, President/Owner


Isaac Lee, Steuben County Economic Development Corp, Executive Director


Amy Lehrman, Katz, Sapper & Miller, Director


Michelle Love, One Lucky Guitar, Inc., Account & Operations Manager


Natalie Manalo, Fort Wayne Neurological Center, Neurologist


Joe Marana, Fort Wayne-Allen County Airport Authority, Director of Operations & Facilities


Rachel McMeeking, Lane & Lavender, Owner


Michael Niezer, Design Collaborative, Architect


Brandon Noll, Reusser Design, Sales Consultant


Nestor Rodriguez, Caliente, CEO


Andrew Royer, LandArt, Inc., President/Owner


Jason Russell, Optimum Performance Sports, Executive Director


Aaron Schaffer, First Merchants, Vice President Commercial Banking Manager


Rachel Schermerhorn, Sylvan Cellars, Owner


Nick Scheumann, Oak Partners, Wealth Advisor


Cameron Smith, Holm Reporting & Smith Academy, Owner/Co-Founder


Matthew Sparling, MKM Architecture + Design, Principal


Matthew Stout, BKD, LLP, Partner


Reneta Thurairatnam, Lake City Bank, Vice President, Wealth Advisor


Holly Tonak, GiGi's Playhouse, Executive Director


Melanie Watson, Blaire Biomedical, Founder and CEO


Adam Welch, Greater Fort Wayne, Inc., Director of Business Development


Karlye Whaley, MainStay Solutions, CFO


Allison Wheaton, Summit Equestrian Center, Owner


Anthony Wilson, New York Life Insurance Company, Financial Services Professional


Rebecca Worrell, Sturges Property Group, Broker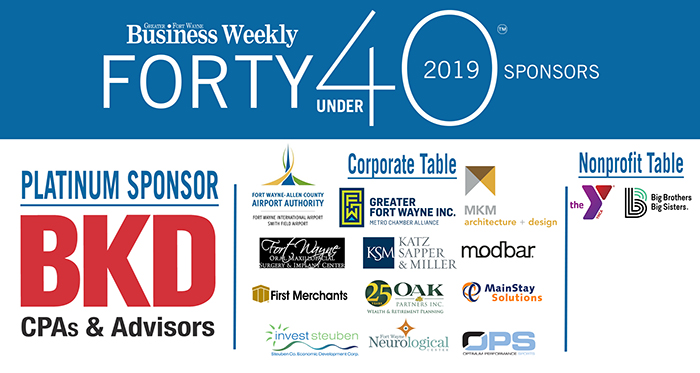 ---