2017 Fort Wayne Education Awards
Greater Fort Wayne Business Weekly 2017 Education Awards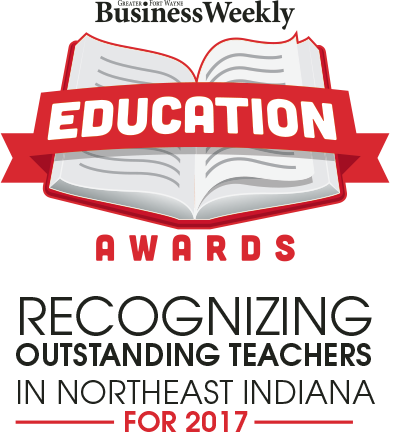 Recognizing outstanding teachers in northeast Indiana.
The dinner event will honor educators in a number of categories. Winners will be presented with a special award and the opportunity to talk about their career and profession. Nominations will be accepted online and a panel of judges will determine the winners. The honorees will be featured inside the October 13 Business Weekly.
Wednesday, October 18
6:00 PM - 8:30 PM
Allen County Memorial Coliseum Conference Center
Official venue of all 2017 Business Weekly events
Tickets: $35
Exciting sponsorship packages, marketing opportunities and family, corporate and non-profit table packages available. For more information emailevents@kpcmedia.com.
NOMINATION DEADLINE: August 27, 2017

2017 Education Awards Winners
IPFW Lifetime Achievement Award Higher Education
Ahmed Rachdi
Continuing Lecturer, Doermer School of Business
IPFW
Lifetime Achievement Award PreK-12
Vicki Aniton
Pre-School Teacher
Early Childhood Alliance Beacon Learning Center
Questa Education Foundation Teacher of the Year
Mike Biers
Adjunct Professor, College of Engineering
Indiana Tech
IPFW Leadership Award Higher Education
John Milliken
Professor, Department of Criminal Justice, Psychology and Social Services/Assistant VP for Academic Services
Trine University
Leadership Award PreK-12
Amy Scott
1st Grade Teacher
Ascension Lutheran School
IPFW Emerging Star Award
James Canino
Associate Professor, Wade Department of Mechanical and Aerospace Engineering
Trine University
IPFW Innovation in Teaching Award
Brenda Fleetwood
5th Grade Teacher
Wolf Lake Elementary
Principal of the Year
Tiffanney Drummond
Director of Career & Technical Education
Huntington County Community School Corporation
Art Teacher of the Year
Laurel Campbell
Associate Professor of Art Education/Director of Art Education
IPFW
IPFW Counselor/Student Advocate of the Year
Alyssa Juday
School Counselor
West Noble Primary
Language Arts Teacher of the Year
Joe Camp
English Teacher
Fremont High School
Mathematics Teacher of the Year
Andrew Nash
Mathematics Teacher
Wayne High School
Music Teacher of the Year
Mark Kays
Assistant Professor of Music/Director of Instrumental Music
Trine University
Outstanding Contribution to Special Needs Children
Michelle Casiano
Teacher Resource Interventionist
Holland Elementary
Science Teacher of the Year
Benjamin Shappell
Biomedical Science - Project Lead the Way Teacher
Leo High School
Social Studies Teacher of the Year
Matthew Mertes
Social Studies Teacher
North Side High School
Early Childhood Teacher of the Year
Martha Shull
Pre-school Teacher
Good Shephard United Methodist Church Pre-School
Teaching Excellence in Sports
Bill Maddock
Associate Professor, Ketner School of Business
Trine University
On April 27, a lawsuit was filed in Marion County Circuit Court in which Gov. Eric Holcomb is suing Senate President Pro Tempore Rodric Brady, Speaker of the House of Representatives Todd Huston and the Indiana General Assembly as a whole over its passing of House Enrolled Act 1123 that gives the body the ability to call special sessions.
You voted: